°Effective purification°
Sweet body scrub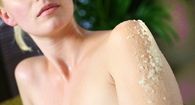 Natural aromatherapy full body scrub made from cane sugar and virgin oils /30min/
It can´t be ordered separately, just as an addition to the procedures taking place in the area reserved for the oil massages.
The aromaterapeutic full body scrub is a 2-in-1 benefit, harder parts of the "cleansing" mixture will remove callous cells from the surface of the skin while opening the pores, improves blood circulation and warms the surface of the skin. Thanks to this process, the skin is  better prepared to receive the active ingredients of the wrapping or other aromaterapeutic massage mixtures.

Scrub contains cane sugar crystals and pink geranium. It has anti-inflammatory effects, excellently treats dry skin.
E-shop