°Detox°
Oil thai massage, body scrub and body wrap I.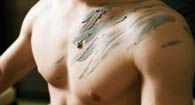 Ritual cleansing feet bath, full body scrub /25min/,oil thai massage /1h/, full body wrap containing colloidal and yellow clay, mustard oil with omega-3 and 6 fatty acids, vitamin E and D panthenol /25min/, 2x drink and relax
For whole stay in Palawi dedicate 2h30min
After this procedure, you will have a soft, delicate skin, a good mood and a positive feeling for your soul, because you have removed a lot of toxins from your body.
The procedure starts with peeling of the whole body with a cane sugar and extracts of white flowers Tahitian gardenia with exotic sensual scent.

Following is a whole body oil thai massage with a detoxifying effect containing hemp virgin oil.
The final wrap promotes blood circulation. It consists of colloidal clay that binds harmful substances. Yellow clay delivers many minerals and trace elements to the skin, which, due to its natural properties, promotes its metabolism, thereby accelerating its natural processes. In order to increase the detoxification effect, the mustard oil is added to the composition to promote blood circulation. It is also an important source of omega-6 and omega-3 fatty acids, which are essential nutrients for the skin. Glycerin and D-panthenol in combination with vitamin E provide skin hydration. The synergistic blend of essential oils promotes the detoxifying effects of the wrap and gives the treatment a pleasant refreshing scent. The wrap has a strong antimicrobial effects.
During the wrap, the therapist will provide a light, dry face and head massage.
E-shop