°Nourishing°
Oil thai massage, body scrub and body wrap II.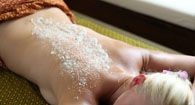 Ritual cleansing feet bath, full body scrub /25min/, oil thai massage /1h/, full body wrap containing rose clay, rosehip oil, phytoestrogens, wild yam extract, soy sterols, vitamin E and D panthenol /25min/, 2x drink and relax
For whole stay in Palawi dedicate 2h30min
After this procedure, you will have a hydrated, soft and delicate skin that is strengthened against the effects of the environment, age and stress.

The procedure starts with peeling of the whole body with a cane sugar and extracts of white flowers Tahitian gardenia with exotic sensual scent.
Following is a full-bodied oil thai massage with moisturizing effect containing coconut virgin oil, with extracts of essential oils.
The final wrap maximally nourishes the skin. The main component of nourishing wrap the oil and rose-hip extract of wild yam, and soya sterols. Rosehip oil is extremely effective against wrinkles, reduces aging of the skin and contributes to its hydration. Wild yam extract is rich in phytoestrogens, proves anti-aging and reduces wrinkle formation. Soy sterols, vegetable glycerine and D-panthenol in combination with vitamin E skin actively hydrate the skin and promote its elasticity. Pink clay in the composition ensures the supply of minerals and trace elements, which thanks to its properties support the natural functions of the skin. The scent of blossom geranium flowers gives the treatment an exceptional scent.
During the wrap, the therapist will provide a light, dry face and head massage.
E-shop