°Relaxing°
Oil thai massage 60'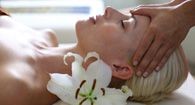 Ritual cleansing feet bath, oil thai massage /1h/, 2x drink a relax
For whole stay in Palawi dedicate 1h30min
Relax with 100% natural pure virgin oils:
Organic coconut oil
Fine almond oil
Apricot oil
Hemp oil

In addition to these oils, you can choose from a wide selection of Bodhi Vitamin E-enriched massage oils on site with the addition of pure natural essential oils with different effects:
Peace of mind: 
Favorite scent of lavender calms and is also known for its beneficial effects for good sleep.
Deep detachment: 
Fresh smell of pure essential oil of lemon grass will help to deliver new energy. Antiseptic effects have a beneficial effect on slowing down cell aging.
Rose dreams:  extra charge 3€           
Beautiful Rose Damascena fragrance has camling effect.
Sweet contemplation: extra charge 3€
100% natural formula, enriched with essential oils of lemongrass and lavender complex nourishes and soothes the skin. Lemon grass helps to slow down cell aging and contributes to overall skin regeneration.
Sun in the rain: extra charge 2 €
100% natural oil enriched with essential oils of calming lavender and healing chamomile provides delicate skin care as well as deep body relaxation.
Fresh day:
The favorite aroma of lavender with menthol admixture is calming and is also known for its beneficial effects for good sleep.
Long Life:
The fragrance of fruits and flowers obtained from pure essential oils of orange, ginger, and geranium will soften your senses, will induce total relaxation and mental balance.
Willpower: extra charge 1 €
100% natural oil containing 4 pure essential oils - cloves, black pepper, bergamot and lime. Great for warming up the body especially in the cold season, oil helps blood circulation in skin and body, release muscle tension. Clove oil has strong antioxidant effects and protects the skin from premature aging.
E-shop