°8 hands for one couple°
IN LOVE Double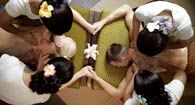 Ritual cleansing feet bath, Spa pedicure and feet wrap, 8-hands Thai oil thai massage /1h/, face and head massage /10min/, flower-honey bath /20min/, welcome drink, 2 glasses of champagne and relax
For whole stay in Palawi dedicate 2h. This procedure can only be done in Grand Palawi.
What awaits you
When you will enjoy your welcome drink, fill in the introductory questionnaire / at the first visit /.
Therapists will take you to a separate room with a shower and massage tables, where she will first provide a ritual cleansing feet bath with essential oils, and then, when you lie down, she will fluff your feet into fine with pumice /disposable use/ to remove residues of rough skin and applies feet wrap with extracts from herbs and flowers. The oil thai massage itself lasts for 1 hour.
After that, one of the partners can dive into the honey flower bath for 20 minutes, the other partner gets a 10-minute facial and head massage. Therapists will bring you a glass of sparkling wine to the room and you have 20 minutes to go for a common relaxing.

The therapist works on the body with a mixture of oils, from which all the nourishing and stimulating substances penetrate into the bloodstream and organs through the pores of the skin.
Flower body bath: 100% natural essential oil Pink wood, honey, flower buds.
E-shop