°Energy balanced°
Traditional Thai massage 90'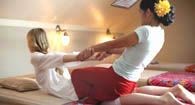 Ritual cleansing feet bath, traditional Thai massage of whole body /1,5h/,2x drink and relax
For whole stay in Palawi dedicate 2h
What awaits you
Fill in the introductory questionnaire / at the first visit /. Drink a welcome drink, important for effective massage. You will get dressed into the Palawi spa clothing. The therapist will take you to the Thai Massage Room where she will first make you a cleansing ritual feet bath. The Thai massage itself lasts 90 minutes. After the massage, you will have a detoxifying green tea with fresh ginger, which you can drink in your room with a book or just a meditation, just like preparing your body to return to the life cycle.
The massage itself takes place on a mattress on a stage, in a comfortable Palawi spa clothing.The therapist works on your body with energy paths and pressure points through the pressure of her thumbs, palms, elbows, knees, feet, and other parts of her body.
In addition to pressure techniques, she stretches out the whole body and basically you are receiving benefits of the yoga exercise, as if you have practiced it yourself /even if the body moves are implemented by the therapist/.
For this procedure you can order face and head massage, acupressure foot massage, spa pedicure. Or, choose one of the finished packages with the Spa menu.
E-shop